Brief facts 4:

Masters of both renewal and recycling
With increased awareness of climate and the environment we are on the road away from the old throwaway society. We are influenced to an ever greater degree by a more sustainable approach and tend to choose things that are recyclable. It feels nice and sensible to utilise things that have been used and make new things from them.
Forest and wood have this great benefit.
Specially packaged recyclability
A good example of recyclable forest products is paper products such as newspaper and packaging. Paper packaging can be recycled no less than seven times. As much as two-thirds of all recycled packaging material in Sweden is paper. The remaining third is plastic, glass and metal.
Even when paper packaging has finished being recycled, it still has significant environmental value. This is because it can be burnt and become heating and energy beneficial to the climate.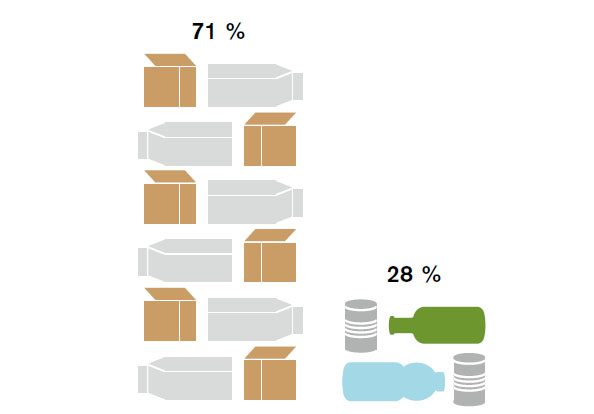 Recycled material in Sweden in 2013.
A cycle instead of throwing away
Recycled paper is a large and important part of the cyclic society. Nearly half of all the paper we use today is recycled. If all the paper that goes for energy production by incineration is also included, the utilisation rate is more than 70%.
Manufacturing, recycling and energy utilisation of paper packaging are all part of a carbon-smart ecocycle system. It all starts in forestry, with pulpwood which is the raw material for paper manufacturing. What is utilised in functional terms to obtain desired properties in packaging is the fibres in the pulp.
Fresh and recovered fibre
It is the strength of the fibres that enables them to be recycled so many times and become what is known as recovered fibre. As the packaging is recycled, the fibres weaken. To be able to keep the cycle going, it is therefore necessary to top with new packaging with new fresh fibres, which can start to be recycled.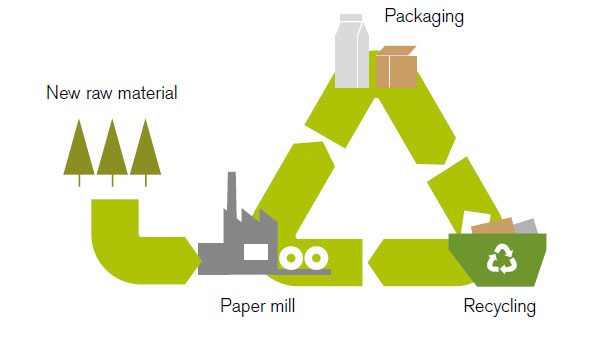 Options beneficial to the climate
It is a strength for manufacturers and consumers to have access to packaging of both fresh and recovered fibre. This gives them freedom to choose what to use, depending on different needs and requirements. For example, if there are stringent hygiene requirements, as with foodstuffs, fresh fibre is often best, while recovered fibre works perfectly well for many other things.
Then it is worth pointing out once more: Both fresh and recovered fibre from the outset are the same thing from the same place – a natural asset exploit by forestry.
SOURCES: Bioenergy Portal, Norwegian Institute of Wood Technology, Norwegian Building Research Institute, Statistics Sweden, Swedish Forest Agency, Swedish University of Agricultural Sciences, Sveaskog, WWF.