Brief facts 5:

Responsibility that doesn't end when the forest does
Jobs do grow on trees
Swedish forestry generates both direct and indirect work for tens of thousands of people in Sweden. So many jobs are involved that it makes the forests the largest employer after the state.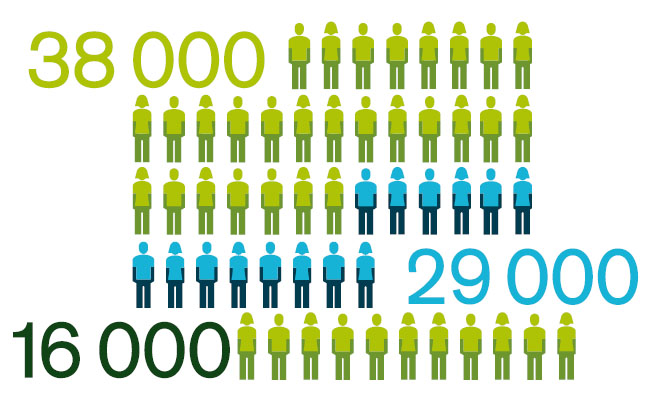 How many jobs forestry generates directly and indirectly in Sweden
16 000, forestry, contractors etc.
29 000, pulp and paper industry
38 000, wood-mechanical and sawmill industry
Forestry creates positive spirals in sparsely populated areas
All these jobs also contribute to rural areas being invigorated, as people who want to do so can carry on living in small villages and communities outside the urban areas. In addition, the Swedish forest road network in many places is more extensive than the public road network and becomes essential to the creation of a living rural area. For the small village or community, this may mean that the local filling station is able to survive, or that access to health and social services is strengthened.
All these jobs mean that the rural area can grow and the entire population does not need to be concentrated in the towns and cities.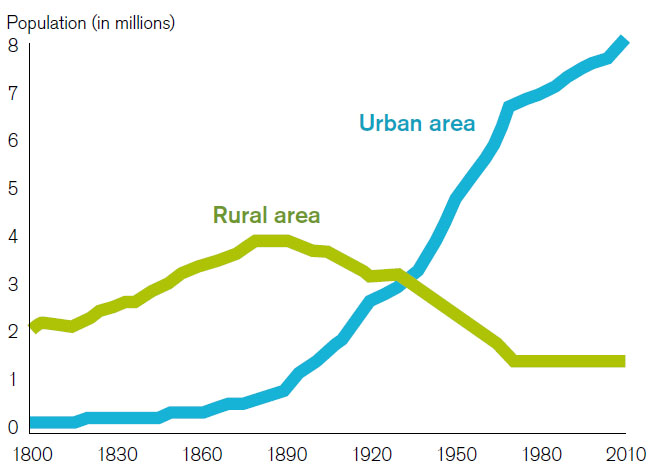 How many people in Sweden live in urban and rural areas
Urban area*, approx. 8 200 000 (85%)
Rural area*, approx. 1 400 000 (15%)
*Urban area = built-up areas with a population of a least 200
More than just trees
The forests are not just a source of valuable raw materials. Strict demands are also made on the forestry industry to pay due regard to the environment and do its best for nature, based on the forests being there for everyone. For many people the forests provide an opportunity for recreation, for example through hunting, walking, fishing and picking mushrooms and berries.
Access to the forests laid down in law
The possibility of freely spending time in the forests and countryside to pick berries or mushrooms, for example, is supported by the right of common access. This is based on custom, but today is written into Swedish law and gives everyone the right to travel across and be on land, even if it is private. On the other hand, the right of common access is subject to requirements for consideration and caution with regard to nature and animal life, as well as other people.
Also protection laid down in law
There are also laws that protect Swedish forests for various reasons. As we have mentioned previously, no less than 2 million hectares of forest are protected, as much as 4 million soccer fields. Reasons for protecting range from conserving greater natural and cultural amenities to allowing indigenous people such as the Saami to live and work as they have the right to. But also to prevent illegal logging, something that perhaps is not a problem in Sweden but is so in many other countries.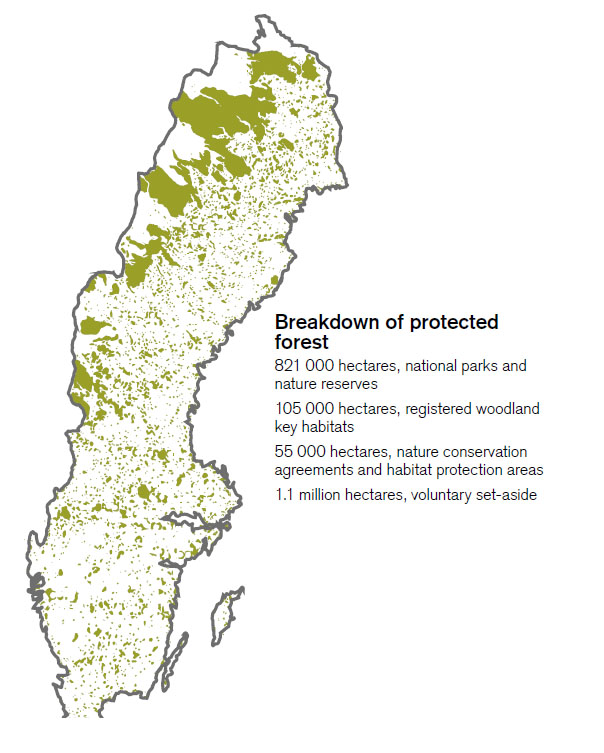 SOURCES: Bioenergy Portal, Norwegian Institute of Wood Technology, Norwegian Building Research Institute, Statistics Sweden, Swedish Forest Agency, Swedish University of Agricultural Sciences, Sveaskog, WWF.