Brief facts 7:

Getting certified
Demand from consumers for certified products is increasing. More and more people are concerned about the environment, climate change and illegal felling of forests. They want to know where the products they buy come from, and through buying certified products they can ensure that the raw goods have come from a sustainable forestry source.
When a forest owner certifies his forest property he can then meet many customers' demands and be clear concerning offering products that are produced through ethical and persistent forestry management which considers both the environment and man. Offering certified products also creates opportunities to reach customer segments that otherwise would not have been possible. This is due to many companies and organisations placing demands on a certified raw goods chain.
Certification
The majority of Swedish forest land is affiliated to FSC® or PEFC™, the two most commonly used certification systems. Both have common basic requirements regarding forestry standards, environmental standards and social standards. Many forest owners now hold dual certification.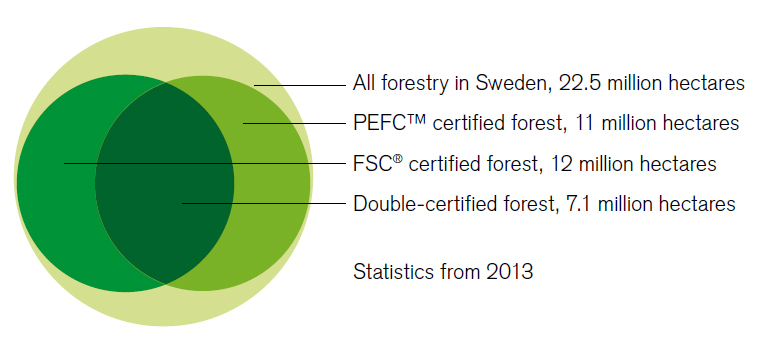 Different certification systems
There are several marking and certification systems on the market. However, as has previously been mentioned, the two most commonplace are PEFC™ (Programme for Endorsement and Forest Certification) and FSC® (Forest Stewardship Council). Both certification systems have a high recognition factor among consumers on the continent, which in itself generates added sales of certified products.
FSC® currently enjoys a stronger position in the marketplace. Their decisions are based on agreements between economic, social and environmental interests in equal measures.
FSC® generally implies a higher costs to the forester in comparison with PEFC™ which is more used within the private forestry sector whilst the major companies in Sweden are FSC® certified. In Sweden around half of forestry is certified and in most cases double-certified, that is, by both systems. However the total amount of certified forest is less than 10 % of all the world's forestry.

FSC® is an independent international organisation for the certification of responsible
forestry management. The goal is for the forest to be used in a responsible manner,
both environmentally, socially and economically. The FSC® logo on products stands
for independent certification of forestry and product manufacture in accordance with
FSC®'s regulations.
Benefits and advantages of being certified
Forestry certification strengthens competition against income for wood and paper and increases the market shares of forestry products.
It provides a guarantee and credibility which benefits the forest owner and forestry management.
Through certification many customers' demands can be met, which strengthens the opportunities for making provisions for forestry products.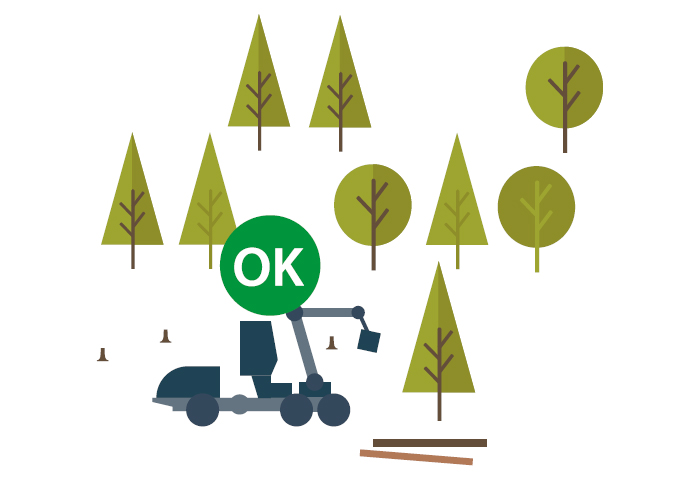 Certification and the law
Sweden has good forestry legislation which has been in force for a long time. In this country we have managed our forests through several generations of owners and types of flora. Certification under law is to be found in the section concerning "freedom under responsibility". Consequently certification adds further value over and above the legal requirements. Examples of extended demands in certification are consideration of water, voluntary provisions and management of high natural values.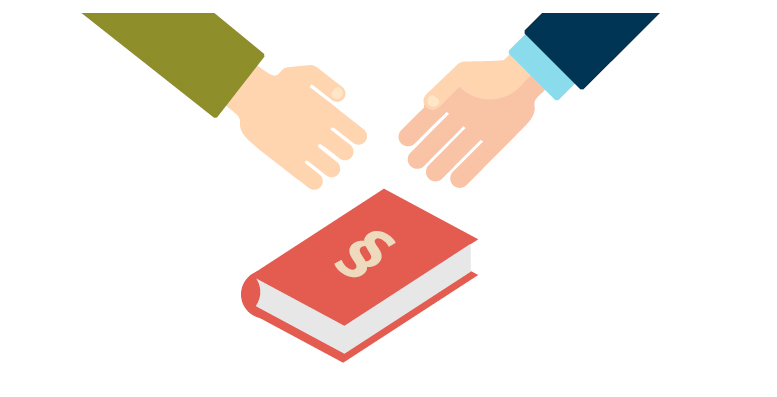 Certification and conservationism
Conservationism, what does that mean? In simple terms it means it concerns all types of measures taken in a forest or an area, the purpose of which being to preserve or benefit the biological diversity. Every forest is unique and needs its own special application of conservationism and care in order to preserve and develop its natural values. The measures are thus adapted to the area's special diversity, history and conditions.
However, regardless of whether your forest is certified or not, it is important to manage it correctly, in every respect regardless of scope or size. Allocating time and resources for forestry management is a significant part of nature being able to grow, thrive and to enable us to preserve and promote the biological diversity.
More than just forest
It is easy to think that conservationism and certification only concern and regulate how the actual forest itself is managed, but the fact is that other aspects such as watercourses, streams and lakes, etcetera, are every bit as important. Another example is prehistoric sites. Of course, these are protected under a separate law, The Historic Environment Act 1988 [Kulturmiljölagen (KML)], but are still a part of forest conservation.
Social responsibility
Certification can also concern many social values. It can involve issues such as relations between forestry operations and reindeer herding, 'Allemansrätt' (public right of access) and rural development. But it is just as much about working conditions in the forestry industry in the form of, for example, terms of employment, working environment, organisation of work and competence requirements. It means that the customer can be sure that the hours spent producing a certified product have been fairly paid, in good conditions and responsibly planned with regard to everyone who may be affected by the production process.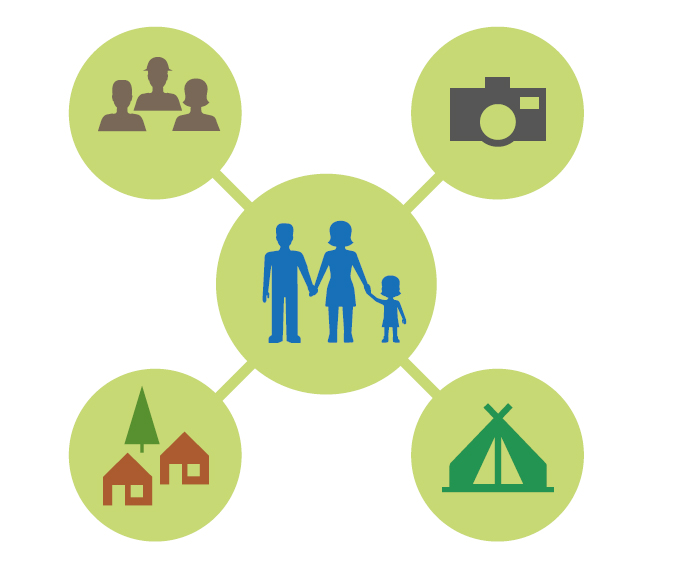 Certification – The Five Steps
The certification process is said to consist of five steps.
Contact approved certification body.
Prepare certification, adapt the business and activities to the requirements.
Certification audit.
The certification body produces an audit report.
If you are considered to have met the requirements you will be awarded a certificate.
A certificate is valid for five years, but during this time annual surveillance audits are carried out. Minor points and complaints are followed-up in connection with these audits.
SOURCES: Sveaskog, Swedish Forest Agency, kunskapdirekt.se, SMHI, FSC, PEFC